Italian summer intensive course for HS students
From: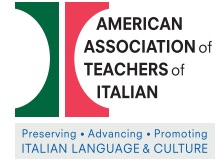 The project is the result of a synergy between high schools, a non-profit organization and a university: it will give high school students an opportunity to be part of a dynamic culture-focused program offered on a university campus that aims at better preparing them for the AP Italian course and exam.
For more information about this project's content, goals, and supporters, see the flyer below and the official page.
If you know students of Italian in the HS system in the Tri-State area, please inform them about this great opportunity!
Registration is open until June 16 at no additional cost. Scholarships are available (applications are due June 5).

Patti Grunther (Italian teacher, Watchung Hills Regional High School), original developer and coordinator
Teresa Fiore (Inserra Chair in Italian and Italian American Studies) and Marisa Trubiano (Associate Professor of Italian), co-developers at Montclair State University